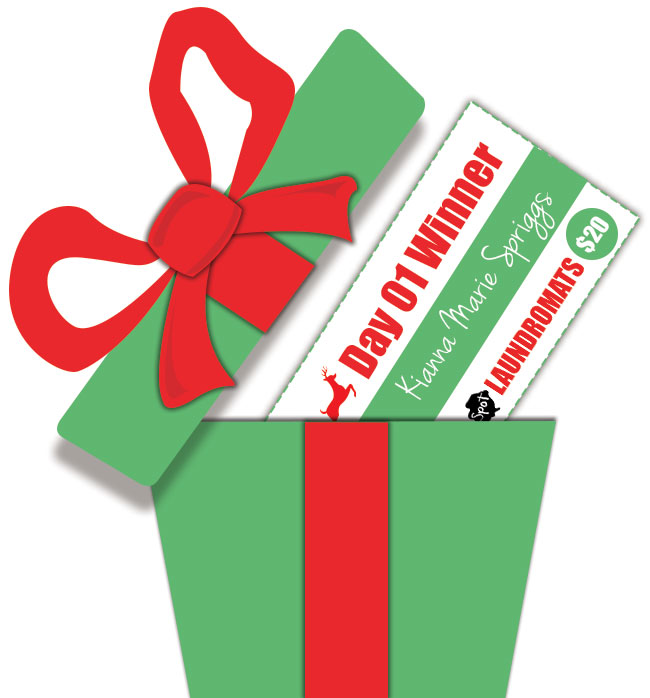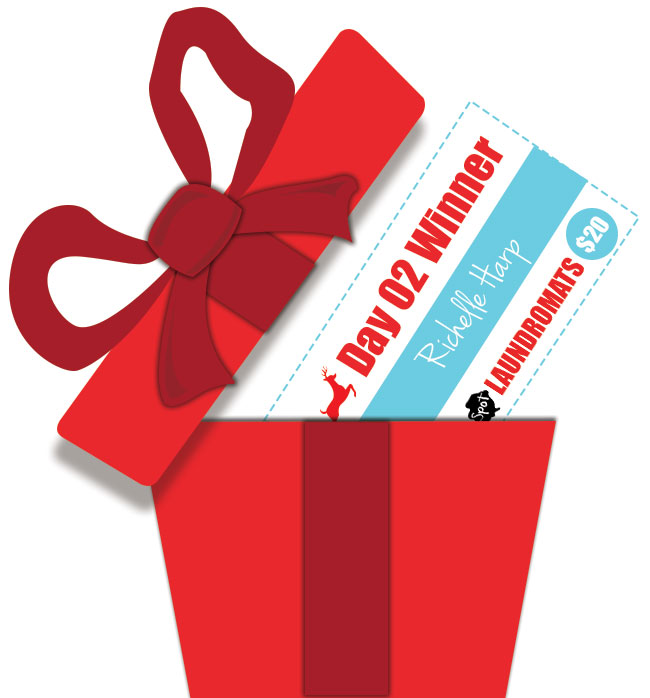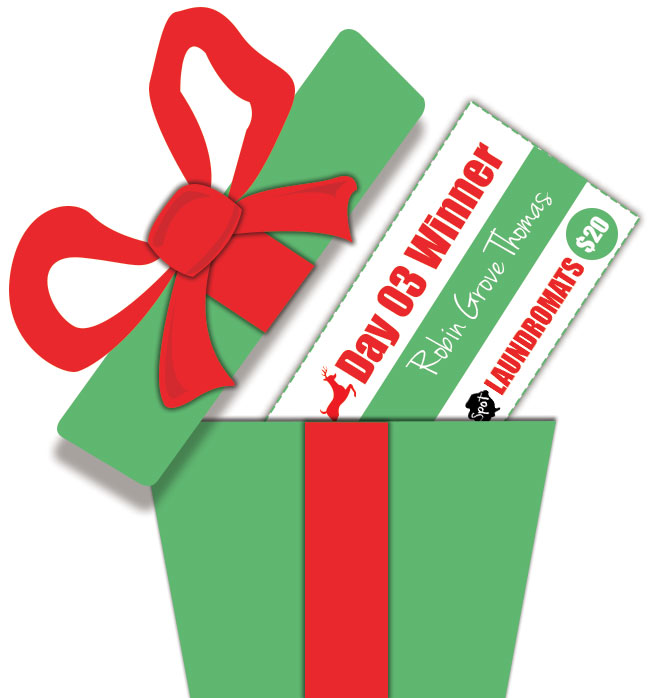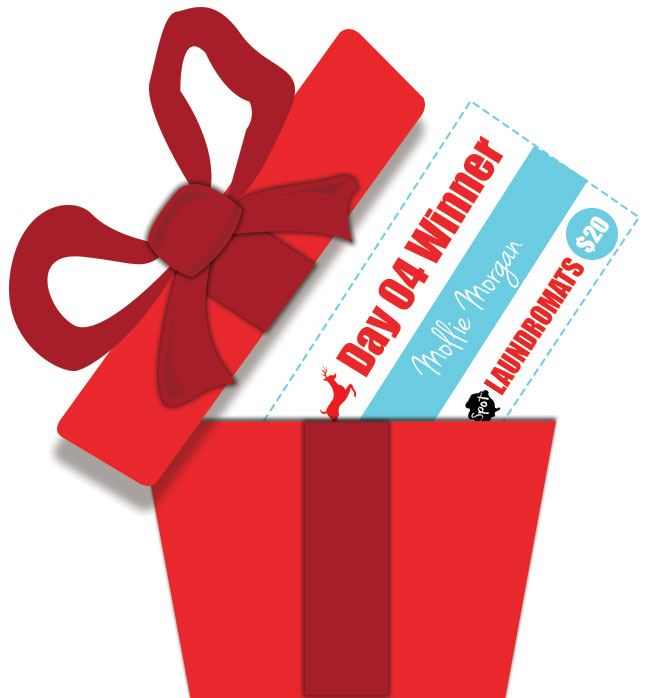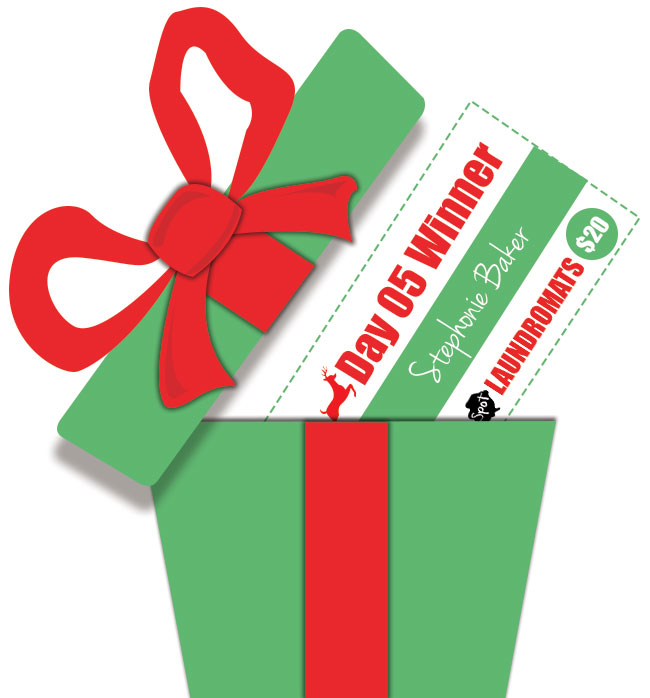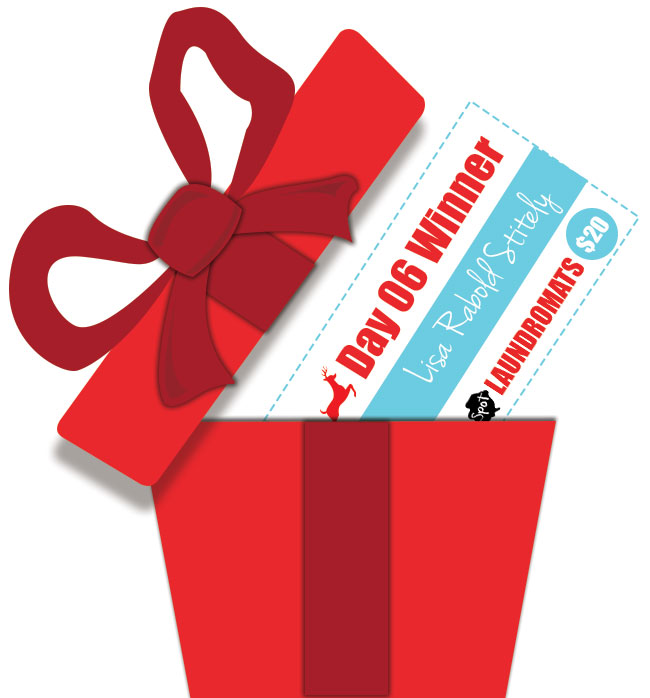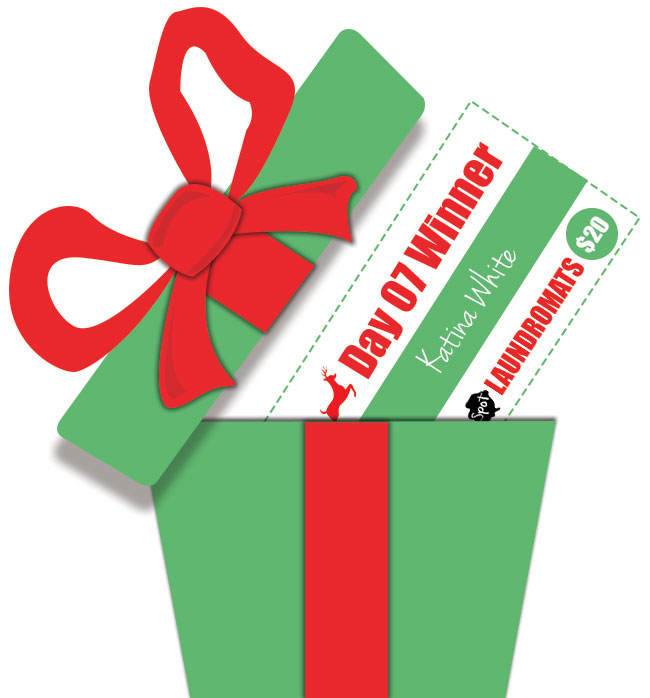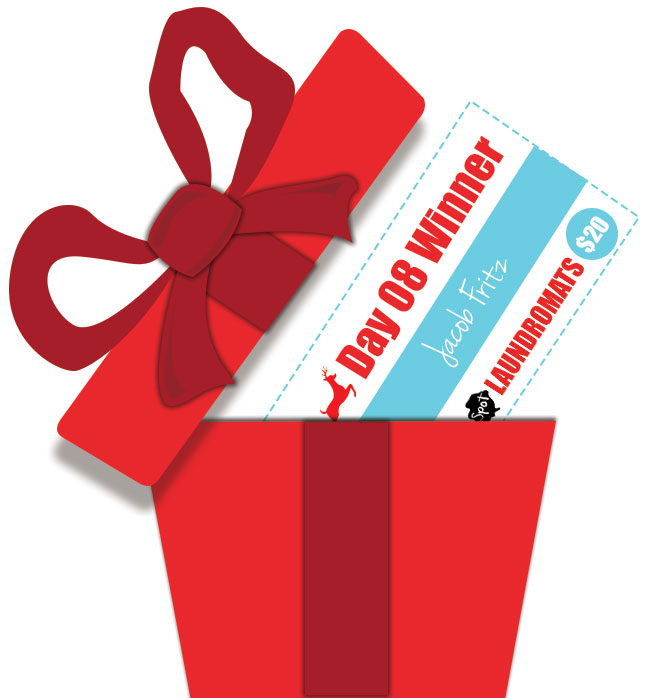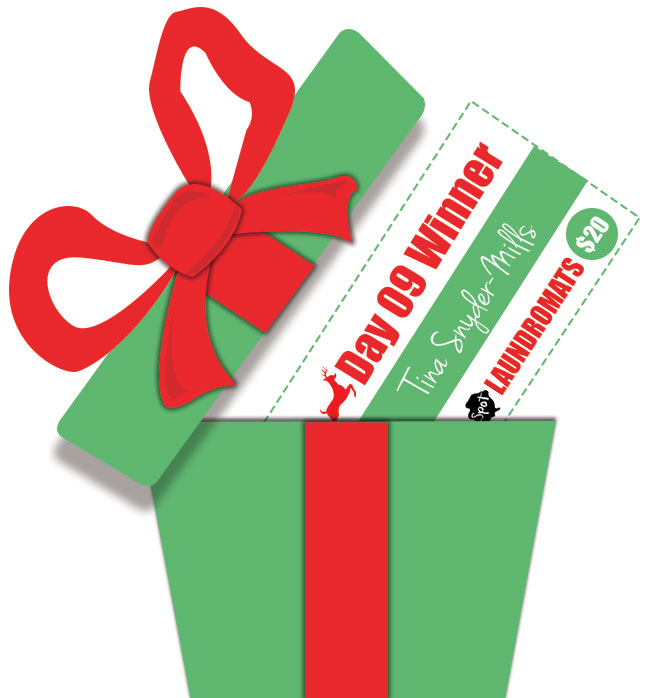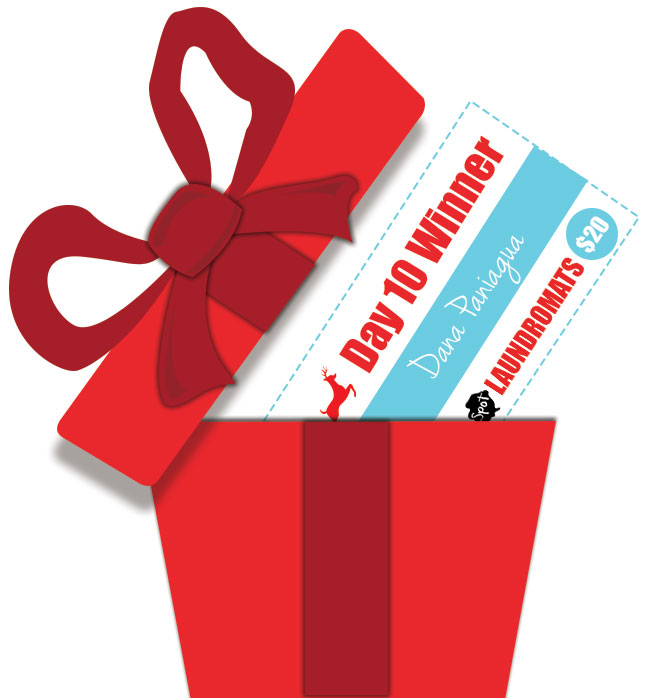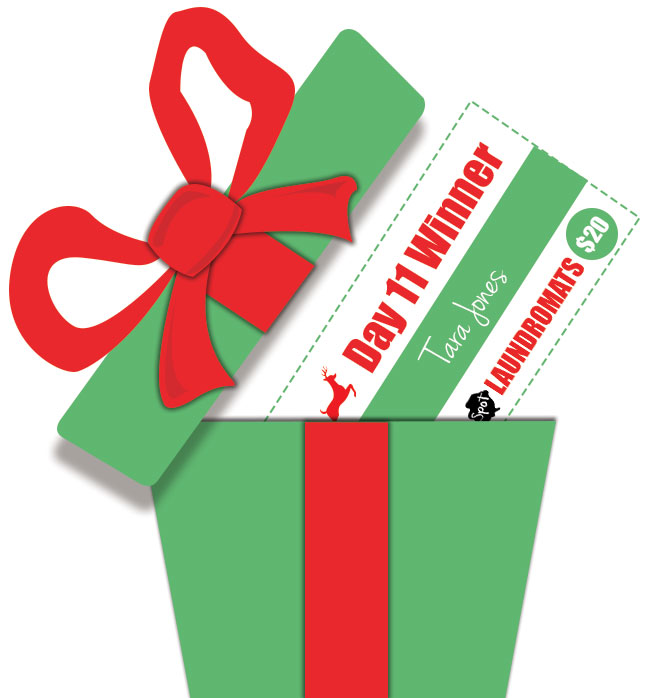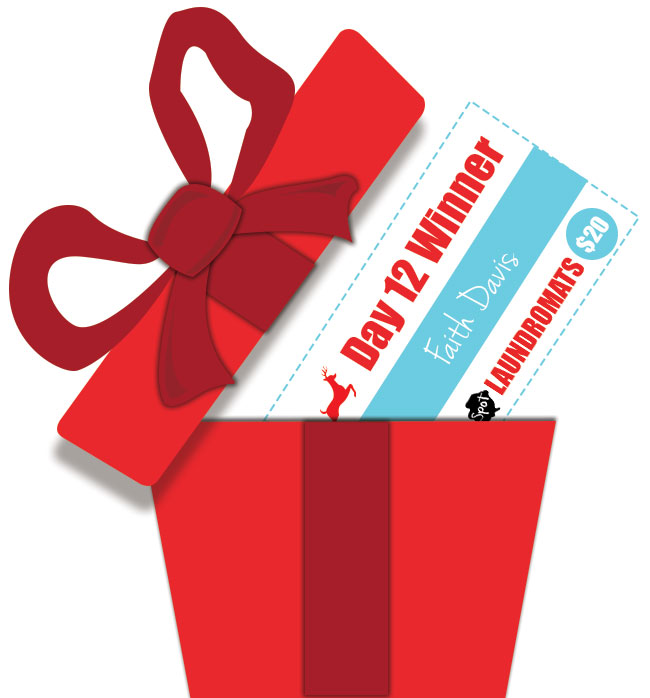 Our 2021 Contest Winners!
Kianna Marie Spriggs
Richelle Harp
Robin Grove Thomas
Molly Morgan
Stephonie Baker
Lisa Rabold Stitely
Katina White
Jacob Fritz
Tina Snyder-Mills
Dana Paniagua
Tara Jones
Faith Davis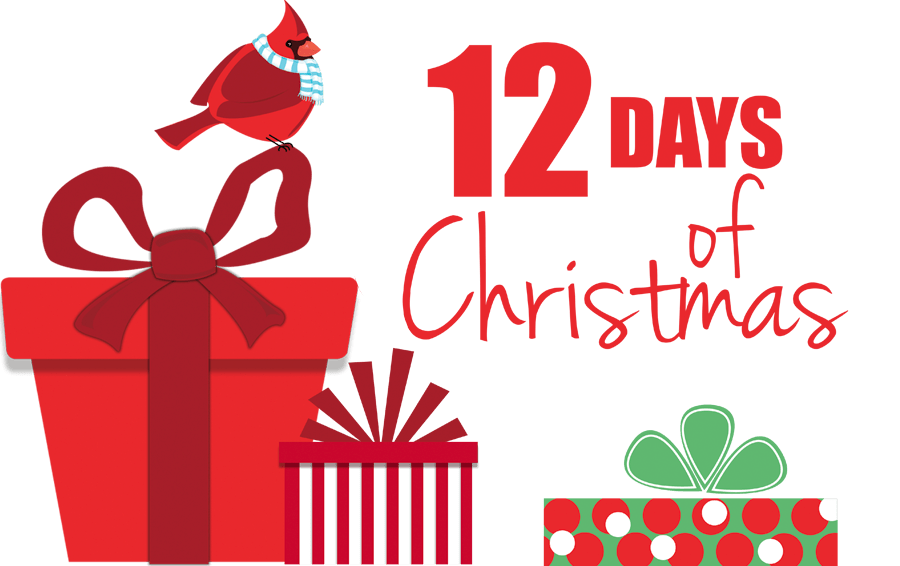 How To Play Our 12 Days of Christmas Contest
Enter each day for a chance to win a $20.00 Spot laundry card.
Days To Play? Every weekday beginning Dec 08 – Dec 23.
What Time? Beginning at 10:00 am through midnight each day.
How? Visit our Facebook page to see the question and hint each day. Private message or email us the answer.
Winner? We will post the day before's winners on this page by 11:00 am each weekday.
Spot's famous 12 Days of Christmas contest is back, and this year a little more challenging. Get in the Christmas spirit and win a little Christmas cheer.
It's super easy and you can win more than one time, so play every day! What better way to kick off the Christmas season than starting each weekday with a little Spot fun contest.
The winner can choose a $20.00 gift card or the balance can be added to a Spot laundry card/account. You, or the person you gift it too, can use that cash on self-serve or drop-off laundry service. Use your cash at any of our full-service laundromats.
So while you watch your Hallmark movies and munch on Christmas cookies, be sure to play our 12 Days of Christmas contest each and every day. Remember, you can win more than once. Oh, and don't forget the Christmas music.
Ahhh, now that's Christmas fun! So come one and all and play along with Spot's 12 Days of Christmas contest, and let the festivities begin.
Our 2020 Contest Winners!
(View our last year contest winners.)
Day 01 – Tina Snyder-Mills
Day 02 – L-Breezy Knode II
Day 03 – Libby Rowe
Day 04 – Dana Moore
Day 05 – Melanie Vincent
Day 06 – Anitra J Harris
Day 07 – Katrina Miller
Day 08 – Edmond Culver
Day 09 – Lisa Turner
Day 10 – Lori Culver
Day 11 – Rachel Schiavo
Day 12 – Teresa Carbaugh