Convenient

Same Day

Laundry Service
---
7 Convenient Locations  |  7 Days a Week
Mon – Sun | 7 am – 5 pm
---
Mon – Sun | 7 am – 9 pm
---
Mon – Sat | 7 am – 5 pm
Sun | 7 am – 7 pm
---
Mon – Sun | 7 am – 5 pm
---
Mon – Sun | 7 am – 5 pm
---
Mon – Sun | 7 am – 5 pm
---
Mon – Fri | 7 am – 9 pm
Sat – Sun | 7 am – 5 pm
Spot, Run and Done
Same Day Wash & Dry Laundry Service

Pricing
Drop-off –  75 cents lb. (15 lb. min.)
*Same day service is only guaranteed, if ordered by 3:00 PM and is under 100lbs. This service does not include folding.
*Prices subject to change without notice.
About Our
Same Day Laundry Service

Drop off your dirty, unsorted laundry at Spot today and let one of our friendly laundry attendants wash it for you. Upon arrival, an attendant will weigh your laundry and quote you a price so that there won't be any surprises later.
You tell us if you have any laundry preferences and if a special detergent is needed just provide it. Otherwise, we provide laundry detergent and fabric softener. If you don't want any bleach, just let the attendant know.
After that we will sort the laundry, pre-treat any stains, and start the wash process.

Next comes the drying process and we treat your laundry with the utmost care. If you have items that you would prefer to have line dried, just let us know and we will hang them up to dry.
Our large dryers, ensure that your best comforters come out looking like new, and our attention to detail will ensure that your laundry will last for years to come.

To save you money and guarantee same day turnaround on all orders under 100 lbs, placed before 3:00, this service does not offer folding.
Why Use
Same Day Laundry Service
Sports, grocery shopping, dinner on the run, and a week's worth of laundry piled up high. If this sounds like you, then give our same day laundry service a try today!
We created this affordable laundry service option so that you could get your week's worth of laundry done in 4 minutes and at the same cost as a bucket of chicken from KFC. So why not spend 6 less hours in the laundry room this weekend, and spend 6 hours doing something fun instead?
We dare you to give it a try today! You won't regret it.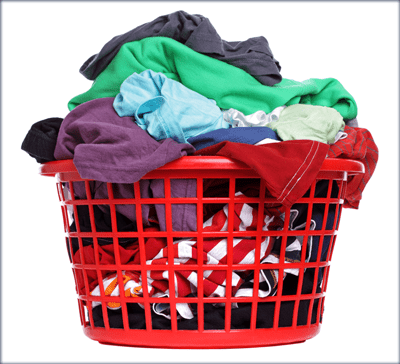 Just toss your dirty laundry into a box, bag, laundry basket, or anything that will hold it. There's no need to sort or organize it we will do that part for you.
What Our Customers
Are Saying About Spot