Convenient

Same Day

Laundry Service
---
7 Convenient Locations  |  7 Days a Week
Mon – Sun | 7 am – 5 pm
---
Mon – Fri | 9 am – 3 pm
Sat – Sun | Closed
---
Mon – Sat | 7 am – 5 pm
Sun | 7 am – 7 pm
---
Mon – Sun | 7 am – 5 pm
---
Mon – Sun | 7 am – 5 pm
---
Due to Staffing Issues, Closed Until Further Notice.
---
Mon-Fri | 9 am – 9 pm
Sat – Sun | 7 am – 5 pm
Spot, Drop and Run
Same Day Wash & Dry Laundry Service

Pricing
*Drop-off –  75¢ lb. (15 lb. min.)
Bulky Item Pricing
Folding Only ———— 75¢ / lb
Comforter King ——– $18.00
Comforter Queen —— $15.00
Comforter Twin ——– $12.00
Comforter Down ——- $30.00
Weighted Blanket —— $20.00
Pillow Standard ——– $7.00
Pillow Large ———— $14.00
Pillow Down ———— $20.00
Horse Blanket ———- $20.00
Pet Bedding ————- $2.00 / lb.
*Same day service is only guaranteed, if ordered by 3:00 PM and is under 100lbs. This service does not include folding. Prices subject to change without notice. Bulk items priced separately.
About Our
Same Day Laundry Service

Drop off your dirty, unsorted laundry at Spot today and let one of our friendly laundry attendants wash it for you. Upon arrival, an attendant will weigh your laundry and quote you a price so that there won't be any surprises later.
You tell us if you have any laundry preferences and if a special detergent is needed just provide it. Otherwise, we provide laundry detergent and fabric softener. If you don't want any bleach, just let the attendant know.
After that we will sort the laundry, pre-treat any stains, and start the wash process.

Next comes the drying process. For this, we treat your laundry with the utmost care. Tell us how you want them dried. If you have items that you would prefer to have line dried, we will hang them up to dry.
Our large dryers, ensure that your best comforters come out looking like new, and our attention to detail will ensure that your laundry will last for years to come.

To save you money and guarantee same day turnaround on all orders under 100 lbs, placed before 3:00, this service does not offer folding.
Why Use
Same Day Laundry Service
Sports, grocery shopping, dinner on the run, and a week's worth of laundry piled up high. If this sounds like you, then give our same day laundry service a try today!
We created this affordable laundry service option so that you could get your week's worth of laundry done in 4 minutes and at the same cost as a bucket of chicken from KFC. So why not spend 6 less hours in the laundry room this weekend, and spend 6 hours doing something fun instead?
We dare you to give it a try today! You won't regret it.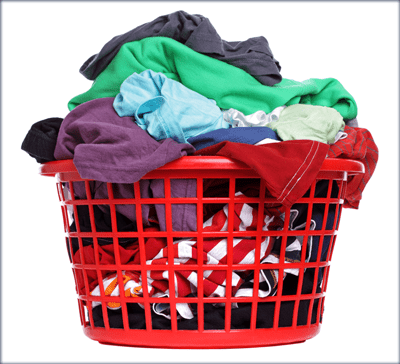 Just toss your dirty laundry into a box, bag, laundry basket, or anything that will hold it. There's no need to sort or organize it we will do that part for you.
What Our Customers
Are Saying About Spot
Service Terms & Conditions
By using our service, you agree that your laundry is suitable to be laundered. We assume that laundry items placed in our care for the Wash, Dry and Fold services can be washed in water on a normal cycle and dried using heat in a tumble dryer. We cannot be responsible for any damage to clothing that is not suitable for this standard laundering process.
Spot Laundromats accepts all laundry based on weight and does not perform a piece-by-piece count.  Spot Laundromats exercises great care in processing clothing items received to avoid misplacement or loss of items. However, try as we may, there could come a day when items are misplaced or even lost.   If you believe we have not returned an item, do the following:
Call us immediately (within 24 hours) to report that you do not see the item.
Double check your home because it is possible that you thought you sent it but did not.
If you still believe it was sent out and not returned, Spot Laundromat's liability, with respect to any lost item/s, shall not exceed $50 per garment regardless of brand or condition. Total loss liability per order shall not exceed $250.
Spot Laundromats is not responsible for any damage to clothing that stems from items being left in laundry items (Such as markers, pencils, pens, makeup etc…).
Spot Laundromats is not responsible for clothes that shrink, bleed or changes shape during normal washing and drying. Again, please check your labels prior to sending clothes to Spot Laundromats.
Spot does not guarantee against color loss, clothes with poorly set dyes, normal wear and tear, pre-existing damage, severe soiling, lost socks, or mismatches.
We are not responsible for any damage that is done to your laundry during normal washing and drying including but not limited to: buttons falling off, beads coming loose, hems or seams coming undone, etc.
Spot Laundromats makes every effort to remove stains but cannot guarantee that all stains can be or will be removed.  Garments not picked up due to no fault of Spot Laundromats for 30 days, may be donated to charity.