Card Laundromat = Many Payment Options
It was one of my jobs as a kid to count nickels, dimes, and quarters and stack them neatly into those paper sleeves. As a child it was fun, but as an adult well, I've got better things to do. Thank goodness that gone are the days of lugging a bag of change to the laundromat. Spot offers you 10 convenient locations that offer you the option to use your cash, coin, app or card to pay. We can guarantee you'll find a Spot that's right for you.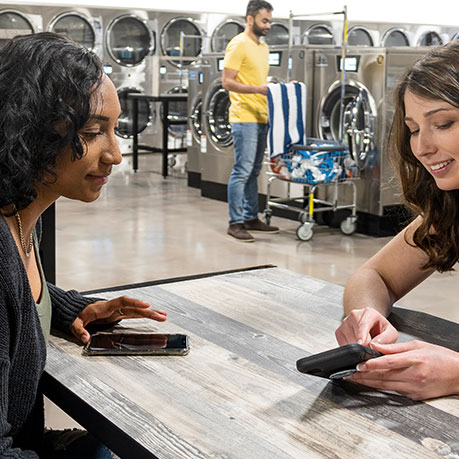 DO I NEED QUARTERS
The answer is no you don't need quarters at Spot Laundromats. The Salem Avenue, Mid-Atlantic Parkway, and Patrick Street Spots all use Spot laundry cards. You simply load the card with the dollar amount that you want and you're ready to do laundry. It's that easy.
Our Camp Hill, Chambersburg, Front Royal, and Virginia Avenue Spots offer you contactless payment options using the Huebsch Pay App.  While College Plaza, East Street and Willowtree offer you both standard coin and also Laundry Boss App options. At each of these locations, you can add money using a credit card, cash or coin. The choice is yours.
Plus, by using a laundry card or app, you can now keep track of how much you spend each month/year on laundry. The budget will thank you. You'll also get rewards for using the app and laundry card, and even your very own birthday bonus. To top it all, you can easily check the laundry card balance online.

I PREFER COINS, DO I HAVE OPTIONS?
The great news is, yes you do have options. At Spot, if you don't want another card in your wallet, simply visit one of our coin-operated laundromats.
So whether using your phone,  cash, coin, or card to pay, Spot's got options for you. We hope that you'll give them a try and let us know what you think.