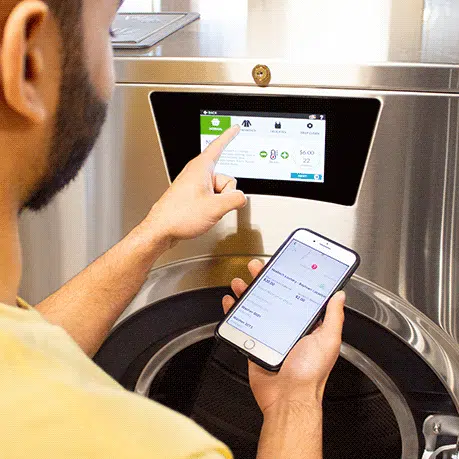 Coinless Laundromat
Spot laundromat offers you the cleanest, most modern, coinless laundromat locations to choose from; and each location accepts multiple forms of payment including, cash, credit card, and phone.
Is There a Spot Laundromat Near Me?
We are working hard to bring a Spot to your area and currently offer 10 coinless laundromat locations to choose from.
Each Spot laundromat is in a location that includes, easy access and ample off-street parking. Never pay to park at a Spot. As a matter of fact, we strive to make our locations easily accessible with well-lit stores and 24-hour surveillance cameras.
How Does a Coinless Laundromat Work?
Card Operated
Visit the currency station. Follow the on-screen instructions to add money and dispense a card from the currency exchange center. Be sure to register your card so that we can help rescue your money should you ever lose the card. Treat your card like cash or a credit card and if it isn't registered to you, we can't locate it for you.
Now head to an available washer and swipe the card to start your wash.

App Operated
Go to the store's currency station and follow the instructions to download the app onto your phone. Once you have money added to the app you can start your washer from within the app. Plus, you'll even be able to track the washer or dryer's progress.
There's no doubt about it. This is your go-to spot to do laundry near me. Also, be sure to check out our laundry services as well. The locations listed below offer wash, dry, and fold laundry services.
Got Laundry? Get Spot!
We do laundry, so you don't have to!